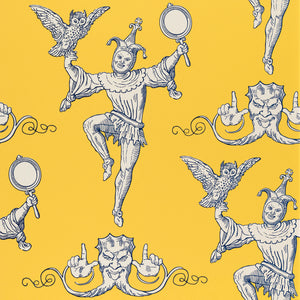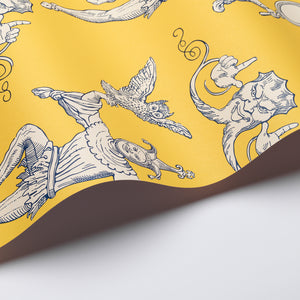 Till Eulenspiegel
Reineke Fuchs Collection
The medieval jester Till Eulenspiegel is as renowned in folklore tales as Reineke Fuchs. Like his vulpine accomplice, Eulenspiegel is up to no good and plays practical jokes on his contemporaries, exposing their vices at every turn. Therefore, it's only fitting that the king of fools finds his place in our wallpaper collection.
In this cheerful pattern, Eulenspiegel is depicted alongside his two most characteristic symbols: an owl and a hand mirror, which bear the enigmatic meaning of his wicked mockeries. Accompanied by a grotesque face, sticking out it's tongue perkily, this pattern invites us to embrace our inner child again and make fools of ourselves.
Crafting Process
Skillfully screen-printed by hand with natural water-based inks, on non-woven paper. All our wallpapers are entirely handcrafted and made with the greatest attention to detail. Nevertheless, some slight deviations in the pattern may occur.
Please allow about 5 weeks for production.
Dimensions
Roll width/length (trimmed): 53cm x 10m
Provided untrimmed. Selvage edge of approximately 1.5cm on each side.
Pattern repeat: 53.5cm
Pattern match: Straight